Connect to Your Drive with the 2020 Lexus LC
The epitome of sleek and exciting, the 2020 Lexus LC is a luxury model that will make sure you are enjoying every drive that you take. Standing out from the crowd through its distinguished style and performance, you can't go wrong when your choices include the 2020 Lexus LC 500, LC 500h, and the limited-edition, limited production LC Inspiration Series.
Interior Features & Design
Your 2020 Lexus LC is designed to give you the best possible control from behind the wheel. Every detail has been considered with hand-stitched features made of hand-selected materials surrounding seamless technology. Every angle, control, and gauge are used to connect you to your vehicle and to the driving experience.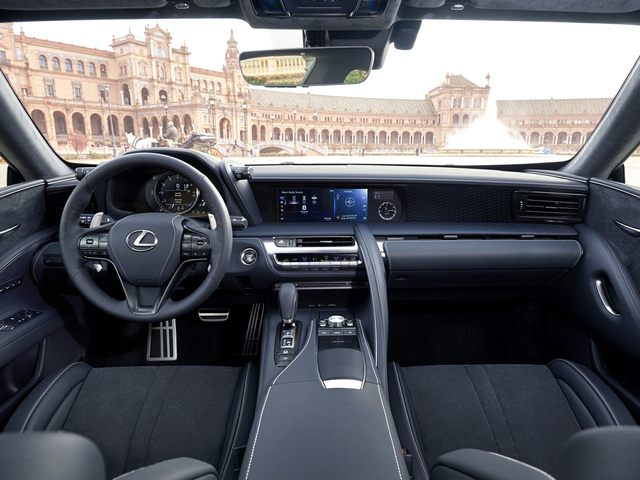 Exterior Features & Design
Lexus models are known for their exciting design that pairs with a powerful performance. The dimensional taillights are designed to resemble the look of the afterburners of a jet, and when the speed-activated rear wing deploys, it'll feel like you are in the cockpit of one. At the front, you'll find some of the slimmest headlights on the market, helping redefine what it means to be an elegant luxury model.
Performance Options
A strong performance will make sure this is the luxury coupe that keeps you smiling whenever you get behind the wheel. Most trims come equipped with a 5.0-liter V8 that gives you 471 horsepower and 398 pound-feet of torque. You can choose hybrid power on the LC 500h trim for better efficiency while still able to get up to 354 horsepower.
Technology & Safety
Confidence will make sure you can always enjoy your time driving. The standard safety features of the 2020 Lexus LC are there to instill that confidence on any road or highway that you end up on. Every trim of this luxury coupe comes with the Lexus Safety System+ suite of features. The cameras, radars, and sonars around the body of the 2020 LC will give you the best view of your surroundings.